The prime suspect of Port Harcourt serial killings, Gracious David West has changed his plea from guilty to not guilty.
This happend when he appeared in court to face murder trial for the serial killing of nine women in different hotels in Rivers State and attempted murder of a woman who survived on Thursday.
David West had
plead guilty
to nine murder charges the first time he appeared in court on 22 October, 2019.
The Rivers State Ministry of Justice has taken over the prosecution of the case and they also brought a one count charge against another suspect, one Mrs. Nimi ThankGod who is the manager of one of the hotels where the killings took place.
The State Prosecution lawyer, Chidi Ekeh said they brought the charge against Mrs Thankgod because as manager of one of the hotels where one of the women who was killed, instead of the hotel to report to police when they found the corpse of the murdered lady in one of their rooms, they dumped the corpse on Aggrey road, and that is punishable by the law.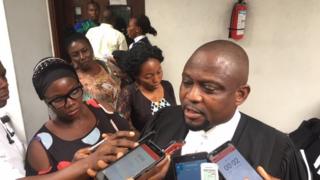 "Two incidents happened the same in the same hotel, the first one died and the suspect went for another victim, but the the hotel management threw the corpse in a refuse dump on Aggrey road instead of reporting to the Police. So when we took over the case, the Attorney general looked into it and figured that the Hotel Manager had a case to answer"
Ekeh said David West's plea change doesn't make any difference because under the law he is innocent until proven guilty by the court of law
Mrs. Nimi Thankgod Lawyer, Edward Obiokor said the charge against her is not as serious as a murder charge; it is "misdemeanour" under the law because they didn't respect the dead.
The Judge who heard this case, Justice Adolphus Enebeli after hearing that Mrs ThankGod lost her husband a few days ago and isn't ready to appear in court granted her a bail of five hundred thousand Naira (N500,000) one surety and asked that she submitted her passport to the court court. He also adjourned the case to 9 December,2019.